main record
| | |
| --- | --- |
| Index | 2005 |
| Population, people | 716 thousands people |
| | 180,5 thousands sq. km. |
| | Timber, ferrous metallurgy , power engineering |
| | 4350 |
| | 20900 |

http://gov.karelia.ru
The official site of the administrative bodies of Republic Karelia
The Republic of Karelia is located in the North-West of Russia and belongs to the North-West Federal Region of the Russian Federation.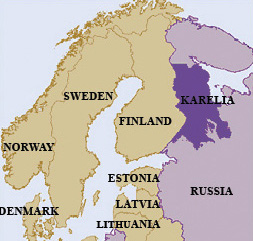 Karelia has a total land area of 180.5 thousand sq. km (1.06% of the total Russian Federation territory). Its length from north to south is 660 km, and from west to east on the latitude of the town Kem 424 km. Karelia borders on Finland in the west, on Leningrad and Vologda oblasts in the south, on Murmansk Oblast in the north and Arkhangelsk Oblast in the east. In the north-west the Republic is washed by the White Sea. The northern border line of Karelia coincides with the state border of the Russian Federation and Finland and has a length of 723 km.
Mineral and raw base of the Republic includes: fuel-energy raw materials (uranium, peat), ferrous metals (iron and chrome ores), non-ferrous and rare metals (nickel, cobalt, vanadium, molybdenum, tin and others), noble metals (gold and metals of platinum group), nonmetallic minerals (diamonds, graphite, muscovite, riebeckite- asbestos, talc and talc stone, feldspar raw materials, quartz, schungite species, quartzite, dolomite, cyanite, sulphuric and sulphide ores, petrurgical raw materials, building stone, sandy-gravel materials, clays etc.)
As of

1 January, 2006, minerals and raw materials reserves of Karelia consisted of 312 explored deposits representing 26 kinds of hard minerals, with the stock officially registered on the state balance, and over 400 prospect occurrences; 379 peat fields; 13 groundwater fields for household and drinking use, 3 mineral water sources, etc.
As of 1 January, 2006, the resident population of Karelia was 697.5 thousand people.
Urban and rural population accounting for 75,3% (525,2 thousand people) and 24,7% (172,3 thousand), respectively. 37% of the population lives in the Republic capital – Petrozavodsk City. The population density makes 4 people per sq. km.
The republic embraces 16 municipal areas (Belomorsky, Kalevalsky, Kemsky, Kondopozhsky, Lakhdenpokhsky, Loukhsky, Medvezhyegorsky, Muezersky, Olonetsky, Pitkyarantsky, Prionezhsky, Priazhinsky, Poudozhsky, Segezhsky, Sortavalsky, Suoyarvsky) and 2 urban areas (Petrozavodsky, Kostomukshsky). 24 municipalities have a status of urban settlements and 87 – status of rural settlements.
The Republic of Karelia enjoys a favorable economic and geographic position (adjacency of highly-developed industrialized regions of Russia and Western Europe, advanced water-transport system, etc.) and is well endowed with mineral resources.