main record
| | |
| --- | --- |
| Index | 2005 |
| Population, people | 4596 thousands people |
| | 1439 thousands sq. km. |
| | Industry, science and science service, culture and art |
| | |
| | |

http://www.gov.spb.ru
Official website of St.-Petersburg administration
St. Petersburg is a city of federal importance, one of the subjects of the Russian Federation, the second significant (following Moscow) economic, industrial, scientific and cultural center of the country. St. Petersburg is located in the north-western part of the Russian Federation at the intersection of waterways and land traffic arteries. The city is Russia's European gateway, its strategic center, the closest to the European Community countries.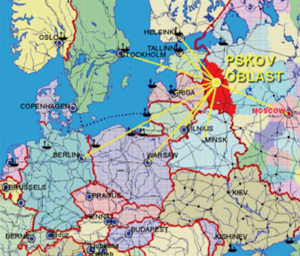 St. Petersburg
is the administrative center of the North-Western Federal Region,
which also includes Republic of Karelia, Republic of Komi, Arkhangelsk, Vologda, Kaliningrad, Leningrad, Murmansk, Novgorod, and Pskov oblasts, and the Nenets autonomous region. The North-Western Federal Region is the only Russian region sharing an extensive border with the European Union countries.
St. Petersburg covers an area of 606 sq. km, and together with the nearest suburbs situated on the plains adjacent to Neva and stretching along the Gulf of Finland – 1439 sq. km. Maximum length from north to south is 44 km, from west to east - 25 km. The city is located near the eastern end of the Baltic Sea's Gulf of Finland. In terms of the abundance of water resources, St. Petersburg ranks the first among the cities of the Russian Federation and the former Soviet Union - and one of the first in the world. The river Neva, flowing from the Lake Ladoga, rolls on within the city bounds over a 28 km stretch; before emptying into the Neva bay of the Gulf of Finland, the river forms a wide delta. The river width is 340-650 m (max. 1250 m, against the port); the depth is 8-23 m.
As of 1 January 2006, the resident population of St. Petersburg was 4.580.620 people.
St. Petersburg
is divided into
18 districts:
Admiralteysky,
Vasileostrovsky,
Vyborgsky,
Kalininsky,
Kirovsky,
Kolpinsky,
Krasnogvardeysky,
Krasnoselsky,
Kronshtadtsky,
Kurortny,
Moscowsky, Nevsky,
Petrogradsky,
Petrodvortsovy,
Primorsky,
Pushkinsky,
Frunzensky, and
Tsentralny.
St. Petersburg is the second largest (after Moscow) city of the Russian Federation. It accommodates representative offices of international organizations, consulates of foreign countries, regional affiliates of federal ministries and departments.