main record
| | |
| --- | --- |
| Index | 2005 |
| Population, people | 737,3 thousands people |
| | 55,3 thousands sq. km. |
| | Industry, agricultural sector, transportation, timber |
| | 3769 |
| | |
http://www.pskov.ru
Pskov region official site
Pskov Oblast is situated in the north-west of Russia and belongs to the North-Western Federal District of the Russian Federation.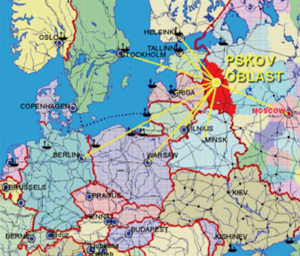 Pskov Oblast territory covers

55.3 thousand sq. km. Maximum length from north to south is 380 km, from west to east - 260 km. Pskov Oblast is the only federal subject of Russia which borders three foreign countries (it has a common border of 270 km with Estonia, shares a 214 km frontier with Latvia, and 305 km with the Republic of Belarus).

Within the country limits, the region adjoins Leningrad, Novgorod, Twer and Smolensk oblasts. The distance from Pskov to Moscow and Saint-Petersburg is 689 km and 280 km, respectively.
As of 1 January 2006, resident population of Pskov Oblast was 724 594 people. Urban and rural population accounts for 486 698 and 237 896 people, respectively. The population of major cities: Pskov – 197047 people, Velikiye Luki – 102357 people.
Administratively, the oblast is divided into 24 districts (of which 9 are border areas), and includes 14 cities.
Pskov Oblast is well endowed with diverse mineral reserves, including even diamondiferous kimberlite pipes occurrence (Gdov region). Explored peat reserves are estimated at 300 mln. tons, with only 350 of 3000 established peatbogs having been developed so far. Other available resources include: molding and glassmaking sand; refractory and fusible clay deposits; mineral pigments used for earth colors preparation; sapropel with broad application opportunities ranging from treatment purposes to building materials production; therapeutic muds and medicinal clays. Mineral water production - both for external and internal use - appears to offer good prospects as well. Eight discovered mineral water sources contain reserves of over 5 mln. cubic meters.