main record
| | |
| --- | --- |
| Index | 2005 |
| Population, people | 1682 thousands people |
| | 83908 thousands sq. km. |
| | Industry, agricultural sector, transportation, building |
| | 12500 |
| | |

http://www.lenobl.ru
Official representative office of Leningrad Oblast
Leningrad Oblast enjoys a favorable geographical location in the north-west of the Russian Federation.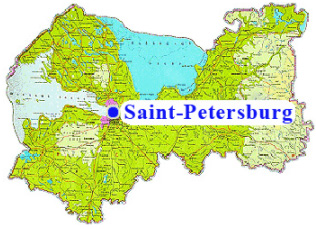 Leningrad Oblast territory covers 83.9 thousand sq. km. The region shares a frontier with the following EU countries: Finland and Estonia. Also, it has a common border with five subjects of the Russian Federation: the Republic of Karelia, Vologda, Novgorod and Pskov oblasts, and the city of Saint-Petersburg. The region sides with the largest lakes of Europe - Lake Ladoga and Lake Onega, and also provides direct access to the Baltic Sea through the Gulf of Finland.

As of 1 January, 2006, Leningrad Oblast accommodated a population of 1643.9 thousand inhabitants, urban population is 1089.5 thousand and rural is 554.4 thousand. The population density makes 19.6 inhabitants per sq. km.
Since 1 January, 2006, there has been introduced a new administrative and territorial division of Leningrad Oblast: 17 municipal regions and 1 urban district constitute municipal areas of the second level, besides, 63 urban and 142 rural settlements, also on the territory of the region, represent the first municipal level.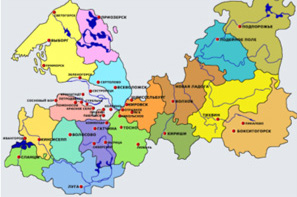 About 56% of Leningrad Oblast territory is taken up by woods, 14% is occupied by lakes, and 17% covered by marshland of different kinds.
Leningrad Oblast possesses considerable reserves of natural resources – timber and water resources, minerals, varied flora and fauna. Actively developed are resources of oil shale, bauxite, phosphorite, granite, limestone, sand; refractory, metallurgical, and cement clay; dolomite, quartzite, mineral paints, and so on. The industrial development of ferrimanganese burs in the Gulf of Finland has been started.
Due to its favorable geographical position at the intersection of water, air, and land communication lines, the region in recent years has turned into an implementation platform for some of the major trade and economic projects in Russia.